Here are the main results on gravitational waves/B-modes from the CMB, as reported by the BICEP2 experiment. For background see my previous post. All of the BICEP2 results and plots are here.
First, the best fit to r, the ratio of gravitational waves to density perturbations: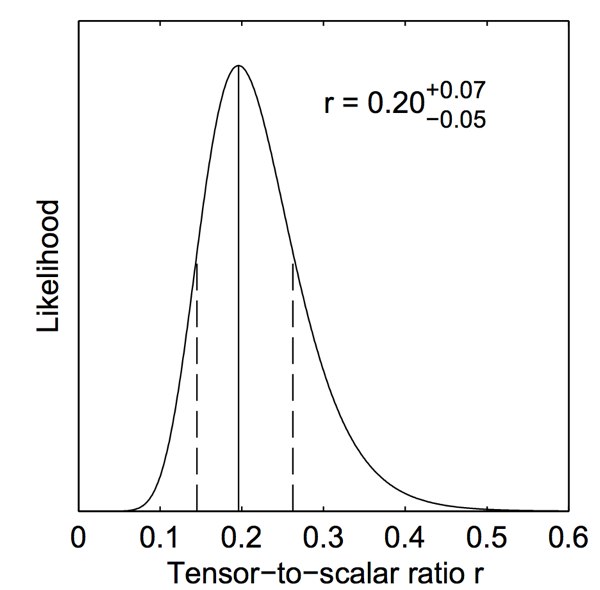 Rumors were right, and r = 0.2 is the best fit (with errors plus .07, minus .05). Here is the power spectrum (amplitude as a function of angular scale on the sky):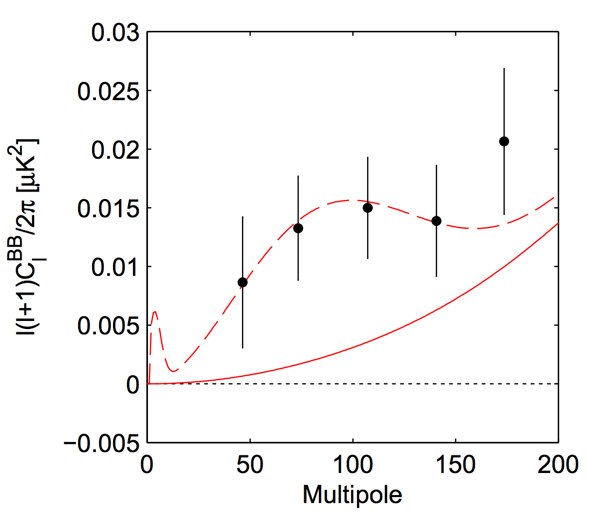 And here we have the contours in r/nS space, analogous to the Planck constraints we showed yesterday. Note that this plot crucially allows for "running" of the spectrum of density perturbations signal — the size of the fluctuations changes in a more complicated way than as a power law in wavelength. If running weren't included, the different constraints would seem more incompatible.
Comparison with other limits (BICEP2 results are black dots at bottom):
Finally, here is a map of the actual B-mode part of the signal: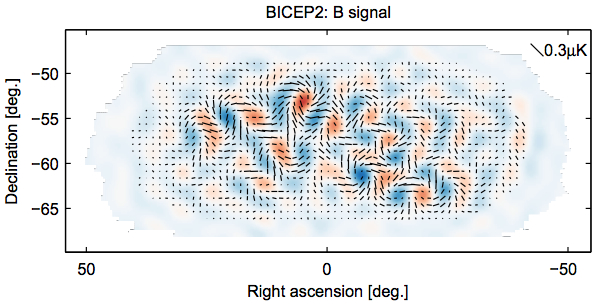 Overall, an amazing result (if it holds up!). It implies that the energy scale of inflation is about 2×1016 GeV — pretty close to the Planck scale (2×1018 GeV). An unprecedented view of the earliest moments in the history of the universe.
---
[From earlier.] Here is an email from BICEP2 PI John Kovac:
Dear friends and colleagues,

We invite you to join us tomorrow (Monday, 17 March) for a special webcast presenting the first results from the BICEP2 CMB telescope. The webcast will begin with a presentation for scientists 10:45-11:30 EDT, followed by a news conference 12:00-1:00 EDT.

You can join the webcast from the link at http://www.cfa.harvard.edu/news/news_conferences.html.

Papers and data products will be available at 10:45 EDT from http://bicepkeck.org.

We apologize for any duplicate copies of this notice, and would be grateful if you would help share this beyond our limited lists to any colleagues who may be interested within our CMB and broader science communities.

thank you,
John Kovac, Clem Pryke, Jamie Bock, Chao-Lin Kuo

on behalf of
The BICEP2 Collaboration