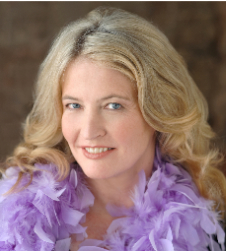 The hunt for dark matter has been heating up once again, driven (as usual) by tantalizing experimental hints. This time the hints are coming mainly from outer space rather than underground laboratories, which makes them harder to check independently, but there's a chance something real is going on. We need more data to be sure, as scientists have been saying since the time Eratosthenes measured the circumference of the Earth.
As I mentioned briefly last week, Katherine Freese of the University of Michigan has a new book coming out, The Cosmic Cocktail, that deals precisely with the mysteries of dark matter. Katie was also recently at the UCLA Dark Matter Meeting, and has agreed to share some of her impressions with us. (She also insisted on using the photo on the right, as a way of reminding us that this is supposed to be fun.)
---
Dark Matter Everywhere (at the biannual UCLA Dark Matter Meeting)
The UCLA Dark Matter Meeting is my favorite meeting, period. It takes place every other year, usually at the Marriott Marina del Rey right near Venice Beach, but this year on UCLA campus. Last week almost two hundred people congregated, both theorists and experimentalists, to discuss our latest attempts to solve the dark matter problem. Most of the mass in galaxies, including our Milky Way, is not comprised of ordinary atomic material, but instead of as yet unidentified dark matter. The goal of dark matter hunters is to resolve this puzzle. Experimentalist Dave Cline of the UCLA Physics Department runs the dark matter meeting, with talks often running from dawn till midnight. Every session goes way over, but somehow the disorganization leads everybody to have lots of discussion, interaction between theorists and experimentalists, and even more cocktails. It is, quite simply, the best meeting. I am usually on the organizing committee, and cannot resist sending in lots of names of people who will give great talks and add to the fun.
Last week at the meeting we were treated to multiple hints of potential dark matter signals. To me the most interesting were the talks by Dan Hooper and Tim Linden on the observations of excess high-energy photons — gamma-rays — coming from the Central Milky Way, possibly produced by annihilating WIMP dark matter particles. (See this arxiv paper.) Weakly Interacting Massive Particles (WIMPs) are to my mind the best dark matter candidates. Since they are their own antiparticles, they annihilate among themselves whenever they encounter one another. The Center of the Milky Way has a large concentration of dark matter, so that a lot of this annihilation could be going on. The end products of the annihilation would include exactly the gamma-rays found by Hooper and his collaborators. They searched the data from the FERMI satellite, the premier gamma-ray mission (funded by NASA and DoE as well as various European agencies), for hints of excess gamma-rays. They found a clear excess extending to about 10 angular degrees from the Galactic Center. This excess could be caused by WIMPs weighing about 30 GeV, or 30 proton masses. Their paper called these results "a compelling case for annihilating dark matter." After the talk, Dave Cline decided to put out a press release from the meeting, and asked the opinion of us organizers. Most significantly, Elliott Bloom, a leader of the FERMI satellite that obtained the data, had no objection, though the FERMI team itself has as yet issued no statement.
Many putative dark matter signals have come and gone, and we will have to see if this one holds up. Two years ago the 130 GeV line was all the rage — gamma-rays of 130 GeV energy that were tentatively observed in the FERMI data towards the Galactic Center. (Slides from Andrea Albert's talk.) This line, originally proposed by Stockholm's Lars Bergstrom, would have been the expectation if two WIMPs annihilated directly to photons. People puzzled over some anomalies of the data, but with improved statistics there isn't much evidence left for the line. The question is, will the 30 GeV WIMP suffer the same fate? As further data come in from the FERMI satellite we will find out.
What about direct detection of WIMPs? Laboratory experiments deep underground, in abandoned mines or underneath mountains, have been searching for direct signals of astrophysical WIMPs striking nuclei in the detectors. At the meeting the SuperCDMS experiment hammered on light WIMP dark matter with negative results. The possibility of light dark matter, that was so popular recently, remains puzzling. 10 GeV dark matter seemed to be detected in many underground laboratory experiments: DAMA, CoGeNT, CRESST, and in April 2013 even CDMS in their silicon detectors. Yet other experiments, XENON and LUX, saw no events, in drastic tension with the positive signals. (I told Rick Gaitskell, a leader of the LUX experiment, that I was very unhappy with him for these results, but as he pointed out, we can't argue with nature.) Last week at the conference, SuperCMDS, the most recent incarnation of the CDMS experiment, looked to much lower energies and again saw nothing. (Slides from Lauren Hsu's talk.) The question remains: are we comparing apples and oranges? These detectors are made of a wide variety of types of nuclei and we don't know how to relate the results. Wick Haxton's talk surprised me by discussion of nuclear physics uncertainties I hadn't been aware of, that in principle could reconcile all the disagreements between experiments, even DAMA and LUX. Most people think that the experimental claims of 10 GeV dark matter are wrong, but I am taking a wait and see attitude.
We also heard about the hints of detection of a completely different dark matter candidate: sterile neutrinos. (Slides from George Fuller's talk.) In addition to the three known neutrinos of the Standard Model of Particle Physics, there could be another one that doesn't interact with the standard model. Yet its decay could lead to x-ray lines. Two separate groups found indications of lines in data from the Chandra and XMM-Newton space satellites that would be consistent with a 7 keV neutrino (7 millionths of a proton mass). Could it be that there is more than one type of dark matter particle? Sure, why not?
On the last evening of the meeting, a number of us went to the Baja Cantina, our favorite spot for margaritas. Rick Gaitskell was smart: he talked us into the $60.00 pitchers, high enough quality that the 6AM alarm clocks the next day (that got many of us out of bed and headed to flights leaving from LAX) didn't kill us completely. We have such a fun community of dark matter enthusiasts. May we find the stuff soon!