One of the nice things that governments do is support basic scientific research — work that might help us better understand how the world works, but doesn't have any direct technological or economic application. Particle physics and cosmology are great examples. In the U.S., much of the funding for these fields comes from the Office of High Energy Physics within the Office of Science at the Department of Energy (DOE).
Now that support is crumbling — drastically. In the last couple of years, the DOE has radically changed how it carries out reviews of different university theory groups, to decide how much grant support each will get. All for ostensibly good reasons — leveling the playing field and all that. But, without much fanfare, the actual result has been a significant drop in funding for almost every major theory group in the country.
Laurence Yaffe of the University of Washington, a respected particle and nuclear theorist, just released an analysis he informally carried out after serving a temporary assignment at the DOE. Here is his abstract (emphasis mine):
Impacts of Recent Comparative Review Cycles on DOE-funded High Energy Theory
L.G. Yaffe, University of Washington
February 19, 2014

A summary is presented of data obtained from a grass-roots effort to understand the effects of the FY13 and FY14 comparative review cycles on the DOE-funded portion of the US high energy theory community and, in particular, on graduate students and postdoctoral researchers who are beginning their careers. For a sample comprised of nearly all of the larger groups undergoing comparative review, total funding declined by an average of 23%, with numerous major groups receiving reductions in the 30–55% range. Funding available for postdoc or graduate student support declined over 30%, with many reductions in the 40–65% range. The total number of postdoc positions in this large sample of theory groups is declining by over 40%. The impacts on young researchers raise grave concerns regarding continued U.S. leadership in high energy theory.
A 20% cut in funding in one year is kind of a big deal. A picture is worth a thousand words, so here are two of them; overall funding changes for all the different groups: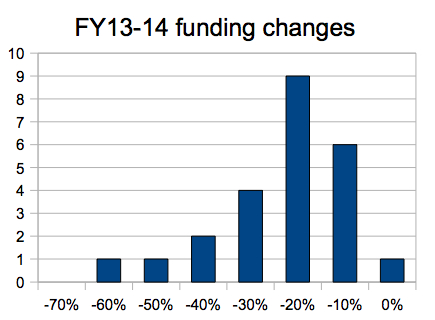 and changes specifically in support for graduate students and postdocs: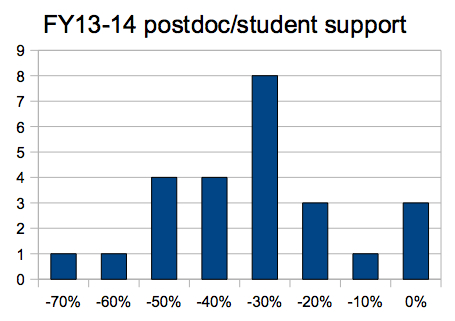 Obviously this is unsustainable, unless as a society we make the decision that particle physics just isn't worth doing. But hopefully things can be rectified at least a bit, to restore some of that money. Everyone I know is bemoaning the cuts, complaining that they have been turning away prospective grad students and postdocs more than ever before. I'm not necessarily against decreasing the number of postdocs (as opposed to grad students); the pipeline has to narrow somewhere, and there's a sensible argument to be made to do it at that point. But we should do it deliberately and after thinking and talking about it, not as the haphazard result of some new bureaucratic procedures. It would be a shame to destroy our future prospects in this centrally important area of science.