Last week I had the pleasure of giving a seminar to the philosophy department at the University of North Carolina. Ordinarily I would have talked about the only really philosophical work I've done recently (or arguably ever), deriving the Born Rule in the Everett approach to quantum mechanics. But in this case I had just talked about that stuff the day before, at a gathering of local philosophers of science.
So instead I decided to use the opportunity to get some feedback on another idea I had been thinking about — our old friend, the claim that The Laws of Physics Underlying Everyday Life Are Completely Understood (also here, here). In particular, given that I was looking for feedback from a group of people that had expertise in philosophical matters, I homed in on the idea that quantum field theory has a unique property among physical theories: any successful QFT tells us very specifically what its domain of applicability is, allowing us to distinguish the regime where it should be accurate from the regime where we can't make predictions.
The talk wasn't recorded, but here are the slides. I recycled a couple of ones from previous talks, but mostly these were constructed from scratch.
The punchline of the talk was summarized in this diagram, showing different regimes of phenomena and the arrows indicating what they depend on: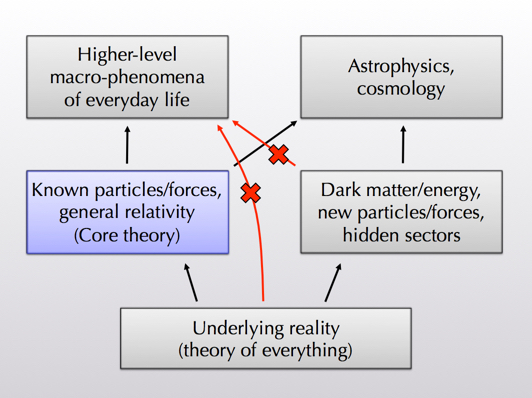 There are really two arguments going on here, indicated by the red arrows with crosses through them. These two arrows, I claim, don't exist. The physics of everyday life is not affected by dark matter or any new particles or forces, and its only dependence on the deeper level of fundamental physics (whether it be string theory or whatever) is through the intermediary of what Frank Wilczek has dubbed "The Core Theory" — the Standard Model plus general relativity. The first argument (no new important particles or forces) relies on basic features of quantum field theory, like crossing symmetry and the small number of species that go into making up ordinary matter. The second argument is more subtle, relying on the idea of effective field theory.
So how did it go over? I think people were properly skeptical and challenging, but for the most part they got the point, and thought it was interesting. (Anyone who was in the audience is welcome to chime in and correct me if that's a misimpression.) Mostly, since this was a talk to philosophers rather than physicists, I spent my time doing a pedagogical introduction to quantum field theory, rather than diving directly into any contentious claims about it — and learning something new is always a good thing.